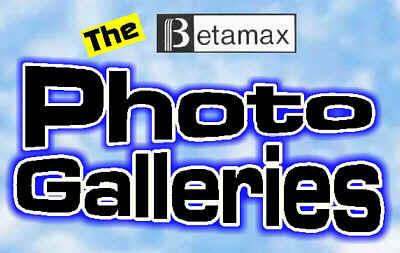 Used for the PAL-system Betamaxes

A VERY SPECIAL ONE-TIME BETA TAPE...
I found this on eBay in 2006...I didn't win it, but it did sell for a lot of money!!
Some UNLICENSED Beta Tapes!
Some unscrupulous companies manufactured Beta cassettes without licensing from Sony. They could not carry the Beta logo on their box or shell, and that's how you could tell they were not licensed! Here are 5 examples of some unlicensed tapes.
| | | |
| --- | --- | --- |
| Picked up from a CES show in the mid 80s from an importer. Terrible quality, mucho dropouts! | A direct copy of the first Sony L-500 box. Logo at the bottom says "Betamat" | This box is a good copy of one of the early 3M boxes. |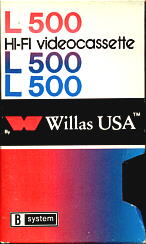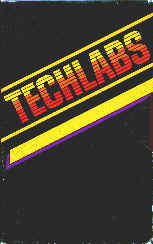 THE CASSETTE SHELLS
Like the tape boxes, there are many varieties of the actual shells of the Betamax cassettes. Check these out!


THE HIGH-GRADES
These shells indicated special high-grade tapes, which were formulated for slow-speed (BIII) recording, and worked wonderfully at BII. The first two, the Pro-X L500s, were optimized for the B-1SHB speed, available only on the SL-HF1000 and SL-HF2100 Betas.

| | |
| --- | --- |
| The first High-Grade shell, part of the first Dynamicron line, released in 1980 or so. | The current High-Grade L-750 |

The original K-60 shell; note old
Betamax logo on upper right flap


The unique TDK 2-window shell,
similar to a VHS cassette. These shells were also used by Kodak.
| | |
| --- | --- |
| The current Beta shell with full-window view; released in 1996 | The consumer ED Metal cassette shell; notice similarity to the cassette at the left! |

Sony Betacam SP Metal cassette
(used mainly in the TV industry)


3M "Master Broadcast" Betacam SP
(used mainly in the TV industry)
The BetaCamSP cassettes are intended for the broadcast market, but work fine in consumer ED-Beta VCRs. The 20-minute BetaCam tapes become L500s, the 30-minute tapes become L750s. There are also regular oxide BetaCam tapes (not SP) that work fine in all Beta VCRs (see below).


COLORS....WE HAVE COLORS.....

Dark blue Sony standard Betacam shell..
regular oxide tape, not metal.


Sony standard Beta tape, in gray
shell
| | |
| --- | --- |
| 3M "Color Plus" high-grade tape in bright blue shell!. | Bright red Ampex Betacam shell (standard oxide) |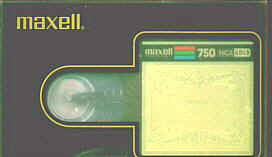 Maxell "HGX Gold" shell and partial see-through box, circa the mid 80's


Free counters provided by Andale.